1st Runners Up of the India's Got Talent Show 2018 – Gaurav Medatwal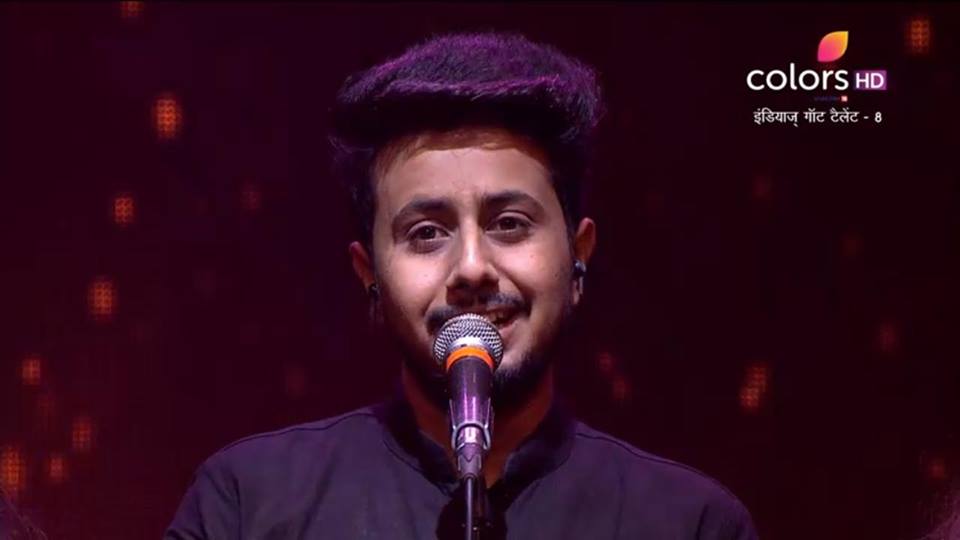 'Gaurav Medatwal', is now a popular Udaipurite who has brought glory and big name for the Udaipur City, both Nationally as well as Internationally. Yes, he is the 1st Runners Up of the India's Got Talent Show – 2018. His hard-work, his dedication, his positive spirit and his never to surrender attitude has made him not just live with his passion and love but to be appreciated and recognized for the same, globally
'The Inspiration'
Gaurav always had a strong inclination towards music, so much so that he used play a keyboard during his school days. His school always supported him to grow with and into music. His journey of becoming a super star began, when after his school he went to Mumbai for his further studies. It was there where he got the maximum exposure and he started to believe that he can earn a big name in the music industry.
'The Preparation'
During the course of his college days, he started to participate in various singing competitions and he was good enough to win almost all of them. He used to take inspiration from other singers and used to practice a lot. But soon after his graduation, he realized that it wasn't enough and so he learnt Hindustani Classical Music under the guidance of his Guru, Mrs. Rita Kaul, who is also the mentor and guru of Bollywood singer @Arman Malik
'The Challenges'
As he doesn't belong to a musical family, he had to prepare himself on his own, though he got all the emotional support from his family. After his graduation he got a handsome job but he wasn't ready to join it like his other friends. He strongly believed in his dreams and he wasn't in any mood to give up on them. But this got him into financial depressions as it is always better to sing with a filled pocket and enough food in the stomach. Yet, he believed in himself and gave his heart and soul for it.
He was rejected from a number of auditions and studios in Mumbai, not just this but he fell a prey to the frauds of this industry, where he was fooled into recording in lieu of big money. But nothing in this world demotivated him to that extent where he could've given up on his dream. He always knew for what he began and for what he was sacrificing everything. He kept sticking to his ambitions.
'The Accomplished Dream'
With his hard work, dedication and most importantly his stubborn belief that he will make his dreams come true, he made it to the finals of India's Got Talent, where he and his team were announced to be the 1st Runners Up of the competition. The whole country and people across the world celebrated his victory. Even to this grand and outstanding success, Gaurav humbly says that it couldn't have been possible without his team and the happiness of his well wishers and their celebrations brought him more happiness than his own.
'The Goal'
His goal is to earn a big name in the entertainment industry as a leading playback singer and to stand up to the expectations of his family, friends and all his well wishers. The goal is to never stop but to keep on rising. From an Electronics and Communication Engineer to a Popularly recognized singer now, it takes a lot of efforts, risks and belief in oneself to be able to win the ends. His story also makes it evident that a mere educational qualification cannot decide the path or goal of one's life.
Not just this but Gaurav was also a Sound Engineer from Sound Ideaz Academy under his mentor Mr. Pramod Chandorkar, where he assisted him as a sound engineer in many live concerts of the legendary singer of India, Sonu Nigam.
'Message to Youngsters'
If you are blessed with some creative traits, do not waste them but pick them up professionally. Everyone always has a choice of living an ordinary life, like everyone else but only those who believe in their dreams and are ready to take a risk are the one who are able to prosper with them. Go ahead into your dreams, give them a sincere try but never forget the difference between expectations and realities.
I still got to do a lot and I still have a lot of dreams to be accomplished. We never know how life will treat us the very next day but we still could be sure about never giving up on any given tomorrows. I'll keep working upon my dreams and that is the way everyone must live and not just exist.
One2all wishes him all the very best for his ambitions and aspirations, that he becomes a Leading Singer of the Entertainment Industry.
Please do not miss upon checking out his work by clicking on the below links. Do follow him on Facebook and Instagram
Instagram – https://www.instagram.com/gaurav18medatwal/
Youtube –https://www.youtube.com/cha…/UCut1ARf0tHd7h5jjoMNyQGg/videos
Facebook – https://www.facebook.com/gaurav.medatwal.3