Guiding Light In The Life Of The Underprivileged, Poor And Deprived Children – Manju Laxmi
Today we are going to introduce one name that needs to be mentioned when it comes to Slum Child Education. The name is none other than Mrs. Manju Lakshmi.
A women with a career , a housewife, a loving mother and above all a women with empathy that has taken her forward to become a guiding light in the life of the underprivileged, poor and deprived children. We will not say anything from our side , you can hear it from herself.
1. Tell us something about you (Introduction)
I am Manju Lakshmi, the founder of Impetus NGO.
I am settled in Udaipur since the past 11 yrs (i.e., after my marriage).
I also work at a private firm as the Head of Sales Quality Department since the past 8 yrs.
I am Married to Mr. Santosh Panicker and the mother of a beautiful 10 yr old daughter.
I Love Reading & Meditation. Also a blogger on social issues, though doesn't get much time for the same!
(https://www.momspresso.com/parenting/mansanyas ).
2. Tell us something about your business / profession
Impetus is an NGO dedicated towards transforming the lives of Underprivileged Children through the power of Education. We provide daily evening classes to kids who are engaged in child labor or other similar activities. We have two locations in Udaipur at present where regular classes are conducted. Near Sukhadia Circle Park & near New RTO. We also provide weekend classes at a location in Mumbai ( Goregaon East) for the kids residing in Slum Area.
Health Check-up camps, distribution of hygiene kits etc. are conducted at regular intervals.
Our Team contains Volunteers who are working class or college going students. We also get interns from different colleges.
Initially, Impetus started its function by distributing food to the needy on weekends. But later realized that by just distributing a one time food once a week wouldn't be a permanent solution to help them out of their unfortunate circumstances.
Keeping this in mind, we started daily evening classes for the kids.
3. How and what you are doing different?
We empower kids through the power of education. We conduct daily evening classes for the kids who are unable to go to schools due to their unfortunate circumstances. Mainly because they are engaged in child labor or other similar activities due to their poor financial conditions. Along with providing daily classes, we encourage and help them to get admission in the near by govt. schools by going to the schools with the kids and their parents . We have noticed that in many cases though the the parents would like to send their kids to schools, they hesitate in meeting the principal as they don't know how would they be treated or any formalities related to it as they have never been to a school before. So we ensure they feel confident and comfortable by accompanying with them and Cordinating with the schools.
We also help the kids with their entire years Educational necessities which include Uniforms, shoes, copies, bags etc. i.e., required to complete their accadamic yr without any trouble.
Last academics year we also provided more than 200 educational kits (each kit contained a govt school students entire years academic necessities) with the help of generous sponsors, to the government school going kids.
This academic year too we are organizing such an activity where in nearly 200 kits would be distributed. Along with the same we will also be introducing mini libraries in 3 govt schools in the city, which would contain more than 1000 story & informative books, which we have bought / collected through Book Donation Campaign.
We also teach the kids to paint diyas, make rakhis, greeting cards etc. We sell such things made by them and with the entire amount collected; we buy small usable gifts or eatables for the kids and their families.
We also do weekend food distribution of lunch packets for the homeless.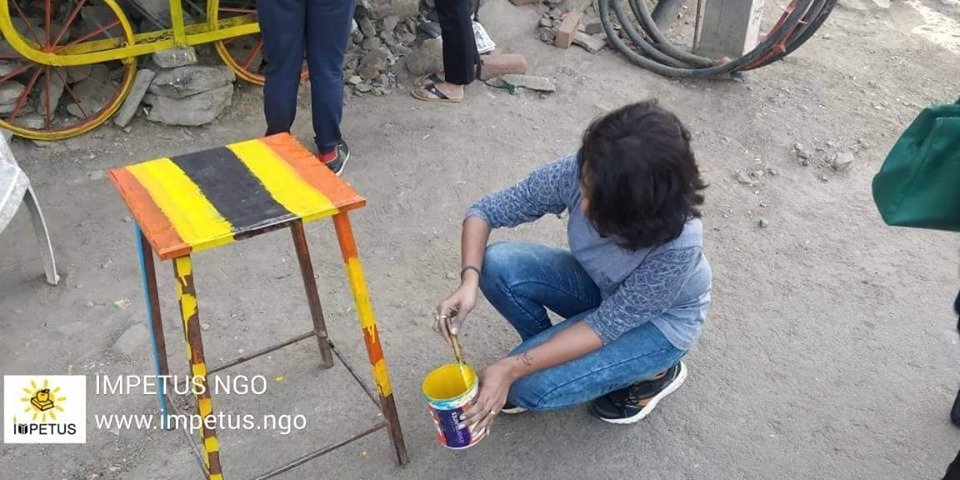 4. Challenges you have faced and how you overcame?
Difficulty in convincing the kids for the Evening classes daily. Few kids (mainly girl's) might not come mentioning they would have to fill water or help with household chores as their mother or elders gives more preference for the same compared to studies. Few parents wouldn't leave their kids for classes as evenings are the peak hours for selling balloons or other items. So they prefer earning rather than learning.
In such circumstances we try to convince their parents and also offer Chocolates or other eatables at regular intervals, so that the kids would be attracted towards classes.
Also many kids drop out from schools even after admission, in such cases we try to find the reason and encourage them and their parents so that they may start going to schools once again.
Many might not have the entire documents at the time of admission as it would be in their villages or might never have made it. We request the principal of the schools to permit them to sit in the classes daily and provide the parents with enough time to arrange for the documents.
As majority of the kids whom we take to schools would be going there for the first time. So they might have to sit in junior classes as they wouldn't know to read or write properly. Few kids find it embarrassing and hence more care is taken towards such conditions so that they wouldn't feel bad and go to school regularly.
Also, we had once tried to renovate a residential park in one of the major part of Udaipur, with the help of the administration. Our team cleaned the entire park, painted it and planted around 100 plants . We also ensured that a person was employed to water the plants for two months regularly until rainy season. But in spite of all these, to our surprise, majority of the plants got stolen and few families where still dumping waste into the garden (when governments garbage bin was hardly 2 mins walk away)!
5. How members can reach to you for your business / profession (Contact information & social media links)
Contact number: +91 8290751827
Mail id: manjulakshmi@impetus.ngo
Website: www.impetus.ngo
FB: https://www.facebook.com/impetuscharity/
Insta: https://instagram.com/impetus.charity?igshid=lriz2kovxxn4